Assistant Chief Jack Austin Jr. provides an overview of what participants can expect when attending a community cultural meeting.
We are
Native
But we are more than all of these things. We are Choctaw Proud.
Anyone can be Choctaw Proud. The Choctaw Proud are humble, appreciative people who value faith, family and culture. We honor the past, live in the present and look to the future. We are resilient people, overcoming adversity with grace and dignity. Those who are Choctaw Proud work hard to be successful and give back to their communities.
Dewayne and Kyra Hornbuckle
Tvshka
Now Accepting Applications
---
Chahta Achvffa
---
Our online portal that streamlines tribal member services. Use your securely stored data and documentation to apply for services in a more user-friendly and efficient manner.
Register Or Login
Vision
Living out the Chahta spirit of faith, family and culture.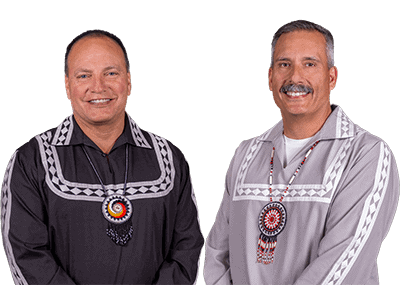 Chief Gary Batton and Asst. Chief Jack Austin, Jr.
Mission
To the Choctaw proud, ours is the sovereign nation offering opportunities for growth and prosperity.
The Choctaw Cultural Center is planning another first, a dinner for couples on Valentine's Day. The Choctaw Cultural Center will host the Chi Hullo Li Dinner, Choctaw for "I love you," on Tuesday, Feb. 14 from 6 p.m. to 9 p.m. at the center's Champuli Café. The café's staff will be on hand to cook and serve for up to 35 couples.
Biskinik News
Tribes like the Choctaw Nation recognize the importance of preserving the stories of their elder for future generations and recorded history.
This month will focus on the art of silversmithing and feature a family who works to honor this tradition by passing on their generational knowledge.
Biskinik News
The Choctaw Nation Family Medicine Residency program (CNFMR), located in Talihina, Oklahoma, has improved Oklahoma's difficulties in recruiting and retaining physicians in rural areas.
Biskinik News
Community centers are a vital resource to the tribal members across the Choctaw Nation of Oklahoma reservation area.
Biskinik News
Choctaw tribal member, Savannah Toon, won the Junior World Finals for Barrel Racing in Las Vegas in December 2022.
Biskinik News
Thanks in part to help from the Choctaw Nation, members of the 45th Field Artillery Brigade of the Oklahoma National Guard were able to spend time with their families over the Christmas holidays.
Biskinik News
Eating disorders like anorexia, bulimia and binge-eating disorder are serious conditions that affect the lives of many Americans and their families every year.
Learn to say these phrases: "The student is absent." and "The babysitter is not here."