Forty-three Choctaw students participate in internship program
Forty-three interns representing 20 different educational institutions are participating in the summer program.
Now Accepting Applications
---
Chahta Achvffa
---
Our online portal that streamlines tribal member services. Use your securely stored data and documentation to apply for services in a more user-friendly and efficient manner.
Register Or Login
Vision
Living out the Chahta spirit of faith, family and culture.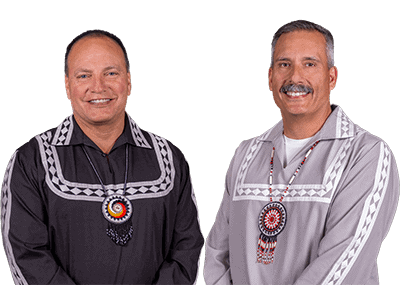 Chief Gary Batton and Asst. Chief Jack Austin, Jr.
Mission
To the Choctaw proud, ours is the sovereign nation offering opportunities for growth and prosperity.
I want to introduce a new series to you: All Hail the Chief. From time to time, I'll highlight a Choctaw Chief so that others may learn about some of our great cultural leaders.
We're collecting stories from our tribal members, community partners, associates and anyone else who is Choctaw Proud. Share yours here.
Biskinik News
Over two years ago, on July 9, 2020, the Supreme Court ruled in a 5-4 decision that a large section of eastern Oklahoma remains an American Indian reservation. Since the announcement, CNO's judicial branch has kept the safety of its tribal members and all Oklahomans as a top priority.
Biskinik News
Choctaw artist DG Smalling pays homage to women in his life who he says have paved their way through Indian Country and the state at large.
Time has truly flown by. It's time to start back-to-school shopping for clothes and school supplies.
The 1970-1980 period marked the beginning of the contemporary Choctaw Nation of Oklahoma government with the development of a new constitution in 1979.
Biskinik News
If you're looking for a scenic and fun way to beat the heat, look no further than these spectacular swimming spots in Choctaw Country.
Learn to say these phrases: "These black shoes are pretty." and "I will buy these black shoes."