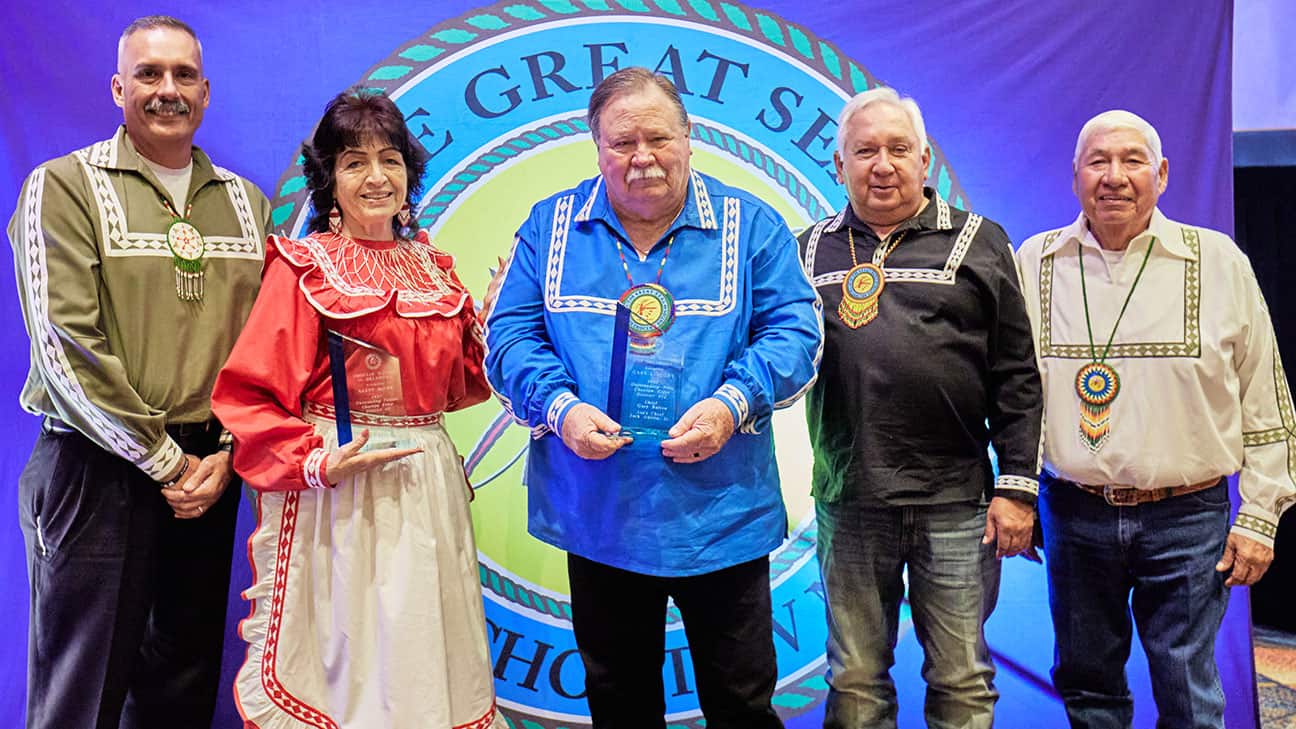 Choctaw Nation Photo
Lindley, McCoy Named Outstanding Elders for Choctaw Nation
Published October 11, 2023
DURANT, Okla. – The Choctaw Nation of Oklahoma recently hosted the 2023 Outstanding Elder banquet to honor the nominees from each district. Each year, the local Community Centers nominate an elder who stands out, exhibiting the Choctaw Nation values and goes above and beyond for their communities. Recipients of the 2023 awards are Gary Lindley of Crowder, Okla. and Sandy McCoy of Stigler, Okla.
The award dates back to 1999, rewarding exceptional service from Choctaw Nation elders. This year's event was held on Sept. 28 at the Choctaw Casino and Resort – Durant. The event included cultural activities such as the Lord's Prayer performed by the reigning Choctaw Nation Princesses.
"Thank you for the legacy you are leaving for our next generation," said Assistant Chief Jack Austin, Jr. to the group of elders. "It's amazing to hear how all of our elders take care of each other. You truly embody our values of faith, family and culture."
Lindley was born in 1947 in McAlester, Okla. His grandfather was an original Choctaw enrollee. He was taught to be a proud, hardworking Choctaw who served his country and his people. After serving the country in the Vietnam war, he continues to serve his fellow veterans by serving on various positions for the Disabled American Veterans organization. Lindley served in law enforcement for 26 years and is currently an active member of the Crowder Choctaw Seniors, helping out whenever he is needed.
McCoy grew up in Tamaha, Okla., graduating from Stigler Public Schools. McCoy serves her county, country and fellow Choctaw tribal members by serving on various positions with the election boards. She also gives back to veterans by volunteering with the American Legion and Veterans of Foreign Wars to place flags on veterans' graves. She also helps seniors get to appointments and since her husband's passing, has been put in charge of laughter for "Healing Hearts," a widows' support group.
"Capturing this group of such special individuals is motivational to our staff and reminds us all that anyone can help others, you just have to take action," says Kayla Williams, director of patient relations.
---
About The Choctaw Nation
The Choctaw Nation is the third-largest Indian Nation in the United States with more than 212,000 tribal members and 12,000-plus associates. This ancient people has an oral tradition dating back over 13,000 years. The first tribe over the Trail of Tears, its historic reservation boundaries are in the southeast corner of Oklahoma, covering 10,923 square miles. The Choctaw Nation's vision, "Living out the Chahta Spirit of faith, family and culture," is evident as it continues to focus on providing opportunities for growth and prosperity.
Inquiries
Contact Kristina Humenesky for any media relations needs at [email protected].