Chief Gary Batton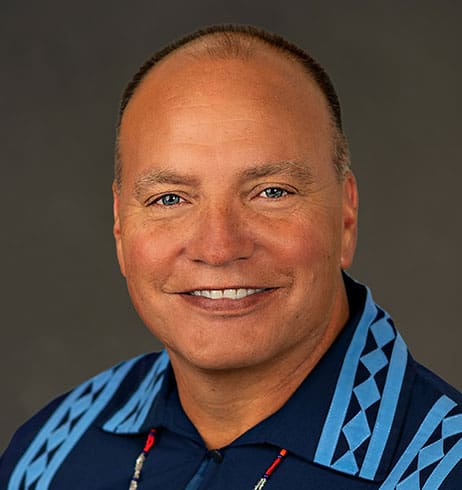 Gary Batton is the 47th Chief of the Choctaw Nation of Oklahoma, the third-largest Indian tribe in the United States. He was sworn into office on April 28, 2014, upon Chief Gregory E. Pyle's retirement.
Batton began working for his tribe in 1987 as a clerk in the Purchasing Department. Upon graduating from Southeastern Oklahoma State University with a bachelor's degree in Business Management in 1989, he accepted the position of Deputy Director at the Choctaw Nation Housing Authority. In 1997, he was appointed to the position of Executive Director of Health, where he oversaw the construction of the first tribally funded health facility in the U.S. and doubled the patient load from 120,000 to over 240,000. Batton developed partnerships with organizations and governments to add even more services to the health system. The Oklahoma University Health Sciences Center partnership resulted in Ear, Nose, and Throat (ENT) services being offered at Talihina and the inception of a specialized care program for high-risk youth with diabetes. A partnership with Eastern Oklahoma State College brought about the establishment of a dental hygienist program, and a coalition with the state of Oklahoma and other Oklahoma tribes led to the establishment of REACH, a program promoting physical activity and reducing the lifetime risks of cardiovascular disease.
In May 2007, Chief Pyle appointed Batton to the position of Assistant Chief. As Assistant Chief and among his numerous duties, Batton served as Chairman of the Choctaw Nation Business Committee. His first initiative was the development of an economic plan that consisted of a $385 million gaming facility expansion in Durant, Grant, McAlester, and Stringtown. This plan boosted the economy in the Choctaw Nation reservation and created more than 700 jobs for the area. Under Batton's guidance, the profitability for all tribal businesses had an overall increase of 69 percent.
In addition to his job duties, Batton has represented the Choctaw Nation on numerous committees and boards including the National Budget Committee for Indian Health Service, National Health Service Corps Advisory Council, Tribal Technical Advisory Committee for the Substance Abuse and Mental Health Services Administration (SAMHSA), Thunderbird Youth Academy Foundation Board, and Oklahoma State Task Force. He currently serves on the Children's Hospital Foundation Board of Advocates, Choctaw Nation Chahta Foundation, Inter-Tribal Council of the Five Civilized Tribes, Southeastern Oklahoma State University Foundation, Texoma Medical Center (TMC), First United Bank, Oklahoma Hall of Fame, State Chamber of Oklahoma, and Imagine Durant Boards. Batton has also been recognized as one of Oklahoma's Most Admired CEO's, Oklahoma Creativity Ambassador, Southeastern Oklahoma State University's Outstanding Alumni, recipient of the Happy World Foundation Lifetime Achievement Award in Global Citizenship, and induction into the Oklahoma Hall of Fame.
Batton is involved in the growth of the entire Choctaw Nation. He uses the Choctaw Nation brand of faith, family, and culture to guide him as he continuously looks for ways to develop programs and services that will benefit tribal citizens. Some highlights of his accomplishments since his term of office began include:
Signed an agreement between the Choctaw Nation and the Oklahoma State Department of Health to provide free flu vaccinations to all tribal citizens within the reservation of the Choctaw Nation to help reduce the incidence rate of influenza during the flu season;
Added Tribal Transit vehicles and personnel to assist tribal citizens to appointments;
Created the Early Head Start Program;
Settled a significant water agreement protecting Southeastern Oklahoma's water resources and our inherent tribal sovereignty between the Federal Government, Chickasaw Nation, and Choctaw Nation;
Created Veteran parking at Choctaw Nation sites; and
Grown annual income by 15 percent, keeping up with general inflationary costs, while still expanding programs and opportunities.
He and his wife, Angie, reside in Clayton, Oklahoma. They have two children, Stacy and David, and two grandchildren.