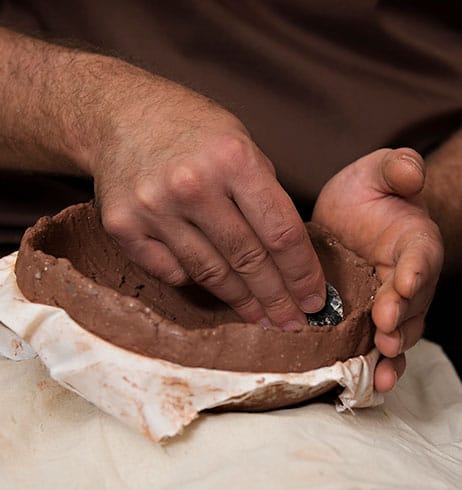 Pottery
Like any art form, the design and symbolism of Choctaw pottery is subjective. Each generation brings new ideas and interpretations to classic designs. Using traditional motifs today creates a unique and special link to the ingenuity and creativity of Choctaws of the past.
Learn more
Dance
The story of dance finds its roots in the homelands of the southeast. Dance traditions of our Choctaw ancestors continued relatively uninterrupted among those who remained in Mississippi and other parts of the southeast during the time of removal, the Trail of Tears, and death.
Learn more
Basketry
Today's Choctaw baskets, or tvpishuk, come from a line of well over 100 generations of Southeastern tribal weavers. For centuries, the Choctaw people have been noted for our beautiful and utilitarian river cane basketry.
Learn more
Dress
Today's traditional dress is the product of a long line of development, which has incorporated a great deal of change in both fashion and materials.
Learn More
Beading
A tradition Choctaw people have carried forward over many generations. Even though the types of beads and patterns have changed over the years, they still associate value and meaning with the beauty of beadwork and the painstaking labor involved in its creation.
Learn More
Stickball
Standing as an enduring part of Choctaw culture not only as a sport but also as a way of teaching traditional social structure and family values. Choctaw Stickball is alive and well in many communities throughout the Choctaw Nation of Oklahoma and the equipment is used as a way to teach children about working together.
Learn More