Kathleen Sue Hitchcock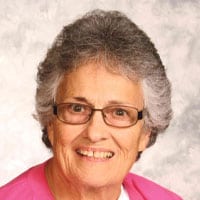 Kathleen Sue (Adams) Hitchcock, 79, passed away March 27, 2022. Kathleen was born Jan. 17, 1943, in Wilson, Okla., to Edmond and Alice (Dumas) Adams. She was preceded in death by her husband Doug; son Michael; and grandson Dominic.
Kathleen is survived by her children Cindy Hoover and spouse Mark, Mark Hitchcock, Kathleen Brackney and spouse Matt, Doug Hitchcock III and spouse Nadia, and Becky Schoppenhorst and spouse Glenn; grandchildren Robert, Elizabeth, Curtis Jr., Micky, Nicholas, Mark, Kaila, Rebecca, Sarah, Ryan, Mary, Brianna, Maria, and Glen Jr.; great-grandchildren Sophia, Taber, Harper, Tucker, Trey, Ruby Mae, Blake, Cole, Charlie, Oliver, Bennett, Ellie, Mason, Adilyn, and Everly; sister Debbie Rodgerson; and best friend Patty Grafrath.
For the full obituary, please visit Martin Funeral Home.